Great Displays Designed by People Who Use Them.
Great Display Company is owned and operated by Getaways On Display, Inc., a brochure distribution company headquartered in Lancaster County, Pennsylvania.
When Getaways On Display was created in 1991 to distribute tourism brochures to travel agencies, we could not find the right displays to meet our needs. In order to get the most reliable, most durable and functional display racks, we knew we had to design and produce them ourselves.
By hand-crafting and customizing our very own displays, Getaways On Display now serves well over 600 locations in seven states. Our display racks are so durable that they withstand any and all high-volume rest areas and turnpike plazas.
After years of selling displays to our neighbors right here in Pennsylvania, and our friends nationwide, we've come to understand the often undervalued importance of durable construction at sustainably functional sizes. If you need a high quality, attractive, display that confidently holds your literature in an organized, easily visible way, you are in the right hands. Our literature racks are offered in a variety of shapes and sizes, from counter-top models as few as a single pocket, to compact, revolving literature stands with up to 72 pockets. Additionally, we offer video displays. All of our displays can be customized.
All literature stands ship fully assembled. We are the only literature display producer of its kind in the nation. Learn why.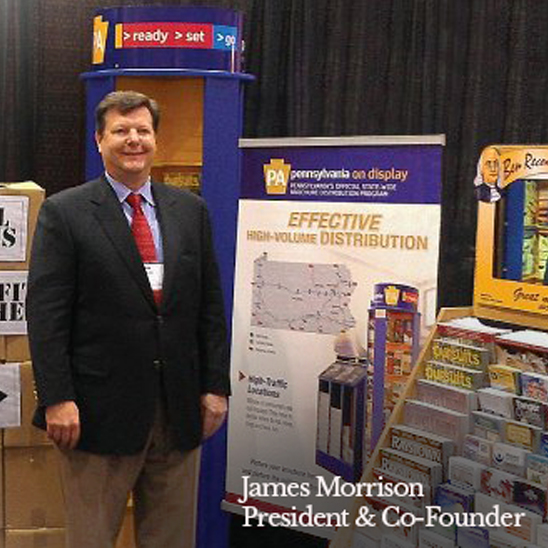 Literature Racks Made by Hand with Quality Craftsmanship in Lancaster County, Pennsylvania.
Displays built with precision and care withstand the test of time.
The quality craftsmanship that goes into every Great Display Company literature rack makes your investment in a a new display worth every penny. The display you choose to purchase today could last for over a decade! We have produced displays for locations which have been there for over 15 years and are still fully functional.
We have witnessed and worked with a number of literature displays built by other manufactures, some modest, and others extravagant. Whenever we install a rack at travel agencies, we are often asked by the agency to remove an old display which had totally fallen apart. Common issues include cracked pockets and loss of the ability to turn a rotating display.
Our literature stands are built by skilled cabinet makers in Lancaster County Pa, right here in the USA. He holds a degree in Cabinetmaking and Wood Technology from Thaddeus Stevens College of Technology. He has skillfully hand-crafted hundreds of durable models.
Be assured that the display you purchase from Great Display Company is created from the most durable and attractive materials. We use Melamine on the surface areas over the wood structure of our displays. The Melamine material is made from heated particleboard fusion and pressure-formed plastic. The high quality Melamine we use is manufactured using 100% recycled and recovered wooden fiber. Not only do our displays outlast physical use, they are also environmentally sustainable.
We ship all display models fully assembled. If you need a display built with quality craftsmanship which will not only look great, but display properly and last for decades, please browse our displays or learn more about customization.